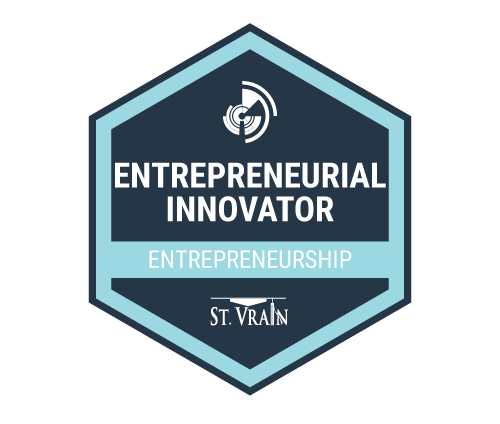 The Entrepreneurial Innovator Badge immerses students in the 8 pillars of entrepreneurship (vision, systems, strategy, delivery, team, profitability, environment, and philanthropy) as they learn the ins and outs of starting their own business. As part of this badge recipients go through sections focused on the opportunity discovery canvas (defining a problem, solution, and connection in order to create a business idea), marketing (focused on a Strengths, Weaknesses, Opportunities, and Threats Analysis), networking (connecting with business members in the community), finance (creating a financial analysis of startup costs associated with the future business), and developing a business plan.
After completing this badge, the recipient can:
Appraise, assess, or critique on a basis of specific standards and criteria.
Originate, integrate, and combine ideas into a product, plan or proposal.
Utilize data to identify and develop a plan in accordance with desired outcomes.
Apply concepts of Design Thinking Process in order to create viable solutions to real world problems.
Interested in earning this badge?
For the English version of this course, use the following course code in Schoology: GJNZ-79CJ-73JNM
For the Spanish version of this course, use the following course code in Schoology: Z7B2-QXSW-H98GF
For questions reach out to our Entrepreneurship Instructor, Jeff Lund ([email protected]) to learn more!