Our mission is to lead St. Vrain Valley Schools in developing sustainable, equitable and high-quality robotics programming. We want to inspire educators, students and community members by providing engaging, challenging and transformative robotics experiences, both during and outside of the school day.
St. Vrain Valley Schools is advancing public education for our community, state and nation. We are preparing our students for their future by giving them a strong competitive advantage. Today's students and tomorrow's workforce demand an education that is rooted in rigorous traditional academics while also leveraging modern technology and advanced learning.
Computer Science is an innovative field, allowing students to be creative problem-solvers and apply their knowledge in real, authentic ways. Our students and teachers regularly program robots, write code, engage in digital citizenship and literacy activities, and learn about the role computers play in our day-to-day lives.
Careers and industry practices are explored through mentoring, internships, guest speakers and more. St. Vrain is committed to providing additional opportunities in cybersecurity through:

New curriculum for middle and high schools
Opportunities to earn certifications
Extracurricular activities and clubs
Professional development
Project Teams
Aquatic Robotics
The Innovation Center Aquatic Robotics Team (ICART) is developing two main products. The first is Poseidon, an agile, powerful underwater drone with a sensing array for water quality testing, 6 motors for fine control, and 4 cameras for infrastructure inspection and habitat monitoring.
The second product is affectionately called 'Überkugel', German for 'over-sphere'. Überkugel is a surface sonar vessel capable of creating low-cost, high-quality bathymetric maps of lakes. Its unique pontoon design is powered by water propulsion and guided by GPS.
To learn more about the team, visit their website: https://blogs.svvsd.org/icart/
Human-Robot Interaction
Humanoid robotics is a growing field and is used in various industries, including education, health care, retail and hospitality. Our team focuses on two robotic platforms:
Each platform is unique, but they share a lot in common as well. Team members learn skills in areas of:
Natural language processing
Human-robot interaction
Coding (Python and Javascript)
Human-centered design
Our Misty team is currently looking for 2-3 new members. Interested? Contact ChrisSchmitz and Axel Reitzig for more information.
Robotics Leadership Team
This team provides leadership and support for robotics programming throughout the St. Vrain Valley school district. It primarily helps schools set up and run competitive VEX/VEX IQ robotics tournaments. They also mentor robotics clubs at various elementary and middle schools throughout the district and provide professional development to teachers.
Skills and commitments for being on this team include:
Commitment to meet 2-4 hours a week for planning and training
Commitment to helping with 2-3 robotics tournaments (10-12 hours per tournament) between October and February
Skills that will be needed but not necessarily by every team member:
Programming with EasyC or RobotC
Understanding of VEX/VEX IQ robotics platforms
Familiarity with project planning and management
Strong communication and collaboration skills
Partners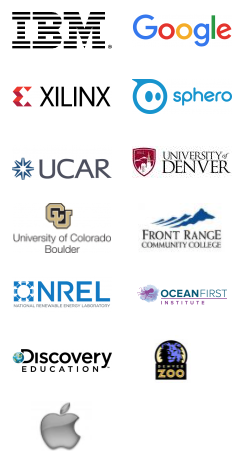 Contact Us