The field of bioscience represents one of the faster growing industries in the country. There is an urgent need with our growing and increasingly aging population to develop new medicines and medical devices as well as sustainable chemicals, fuels and agricultural products.
Our students will be able to participate on the forefront of this industry through interaction with industry leaders and industry-relevant programming. The Bioscience program is designed to enable students to develop skills and capabilities in biotechnology and biomedical engineering. Students will learn fundamental and advanced skills in biotechnology lab techniques or apply engineering design processes to the development of novel prototypes such as prosthetics and devices that can help people with disabilities. Students will work closely with mentors from industry and learn what it is like to pursue a career in bioscience.
Whether through classes or as part of one of the bioscience clubs, students will have the opportunity to experience, in depth, the excitement of undertaking industry-relevant experiments and developing novel products in biotechnology and biomedical engineering.
Course Offerings
Experimental Science: CTE85118: Fall & Spring
Open to all 9-12th graders; no prerequisites
This course explores introductory laboratory fundamental principles and procedures performed in general biology, biochemistry, biogeology and physics lab settings. This course covers many basic scientific principles; however, that is not the focus of course. Students utilize lab equipment and apply the scientific method to a series of experiments across all scientific disciplines. Additionally, they will learn and be required to follow all necessary safety regulations and lab notebook documentation. This class prepares students to be critical thinkers and for future science and hands-on engineering and design courses, as well as an introduction to careers in professional lab settings.
Data Science: CTE83240: Fall & Spring
Open to all 10 – 12th graders
The course focuses on current data collection in our local community and teaches data science skills that are highly sought after in today's physical science world. Students will gain practical experience with data science tools and collection methods, as well as data organization and presentation used in industry today. Students will work with several community partners to apply the data to real world problems. Students have the opportunity to receive GIS badging. This multidisciplinary course will prepare students for future careers or coursework in environmental science, social science, biology, or engineering.
Introduction to Biotechnology: CTE85115: Fall & Spring
Open to all 11-12th graders
Introduction to Biotechnology is a course designed to give students a comprehensive introduction to the scientific concepts and laboratory research techniques currently used in the field of biotechnology. Students will attain knowledge about the field of biotechnology and deepen their understanding of the biological concepts used. In addition, students will develop the laboratory, critical thinking, and communication skills currently used in the biotechnology industry. Furthermore, students will explore and evaluate career opportunities in the field of biotechnology through readings, laboratory experiments, class discussions, research projects, guest speakers, and workplace visits.
Introduction to Biomedical Engineering: CTE85110: Spring (1 Credit)
Open to all 11-12th graders
Concurrent Enrollment with Colorado State University
This survey-based course through Colorado State University exposes students to how mechanical engineering, chemical/biological engineering, and electrical engineering principles can be applied to current biomedical challenges. The course also introduces current research efforts at CSU, BME career opportunities, team dynamics, and accessing/reading academic literature – all of which will be valuable as the student progresses through their interest area. Students will also be able to go through the process of solving an engineering problem and presenting a product concept to various audiences at CSU.
Project Teams
Data Science Team – Northern Redbelly Dace
The Innovation Center in collaboration with Ocean's First Institute, Boulder County, Boulder County Parks and Open Space Foundation, Colorado Parks and Wildlife, and the Denver Zoo has formed a Northern Redbelly Dace Recovery program which aims to increase public awareness and peak student interest in the conservation of native species. The primary goal of the recovery project is to expand the range of healthy Northern Redbelly Dace populations in the state of Colorado and beyond.
Through this project, we have included students and community volunteers to help increase the success rate of this endeavor which includes facilitating a yearly fish-release and creating a system for continued data collection.
Check out the Northern Redbelly Dace page here!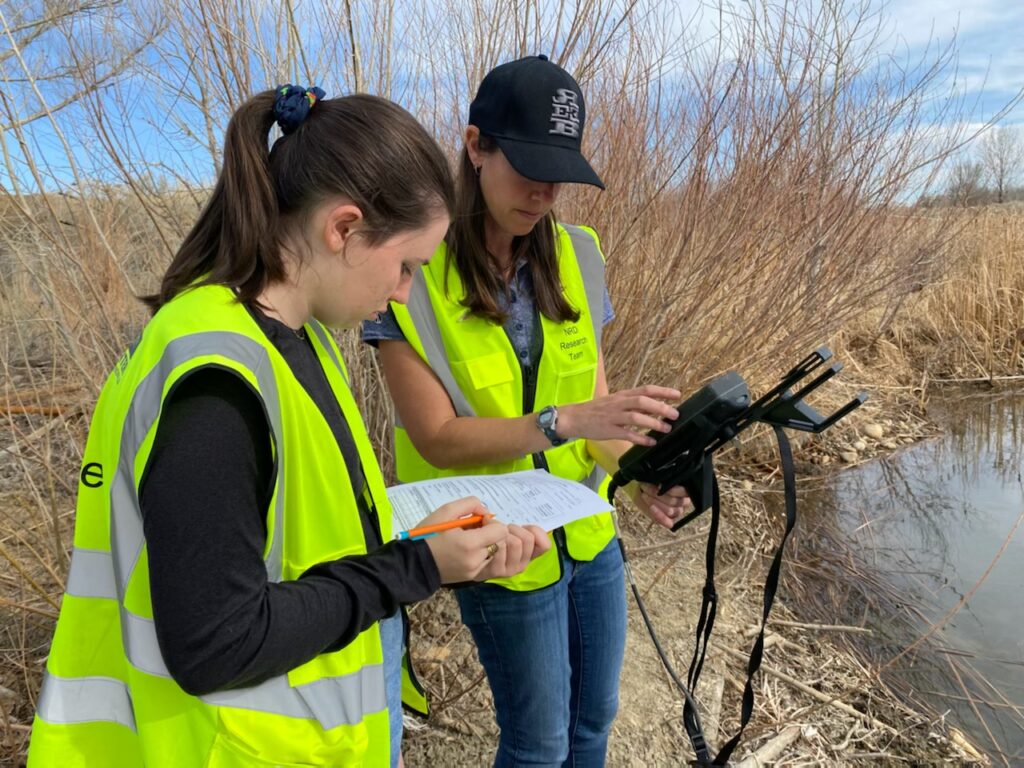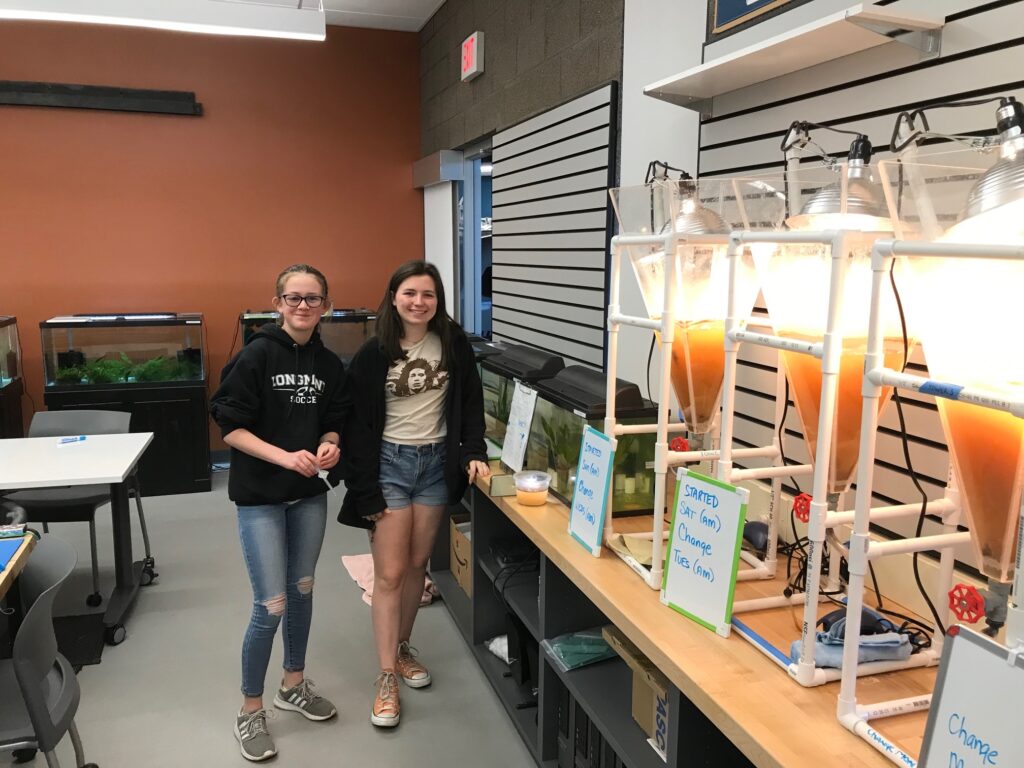 UCHealth Neuroscience Virtual Reality Project Team
The Innovation Center's Bioscience program is looking for passionate student developers who will work in partnership with UCHealth to create a new pathway in which virtual reality can support the pursuit of joy, empathy, and connection. The team is looking for students who can easily work with others as well as contribute their individual talents to the team, complete their work on time, and commit to attending every meeting. As a member of the team, developers will learn new skills and knowledge, beginning with neuroscience.
Other partnerships include Rendever and their commitment in making high tech simple and accessible in order for all people to build mentally healthy relationships. As a member of this team, you will work with members from UCHealth and Rendever, as well as SVVSD staff to develop and test a virtual reality application prototype, with a focus on joy, empathy and connection. You will also apply principles of human-centered design thinking and develop a mindset of social entrepreneurship.
Progress and final event for Phase I 2021-2022 School year:
UCHealth and St. Vrain Valley School District Innovation Center have partnered on a two year project focused on the use of virtual reality to build joy, empathy and connection among high school peer groups. Innovation Center students are using design thinking to create meaningful virtual reality experiences they hope will eventually be used in real life settings with their peers.
St. Vrain and UCHealth experts along with virtual reality partner, Rendever, have provided mentors to the students to understand more about neuroscience, mindfulness, and virtual reality content design. Essentially, getting the right experts in the room with the students so they can go dream, think and create.
The "prototype unveiling" event in May, 2022 will showcase the "why" behind each project and allow the students to explain the process and development of their prototypes – from design thinking to content design. The students also discussed the challenges they've faced in translating ideas to technical application. For the 2022-2023 school year, students will pick up where they left off and start working on finalizing their projects into marketable virtual reality content.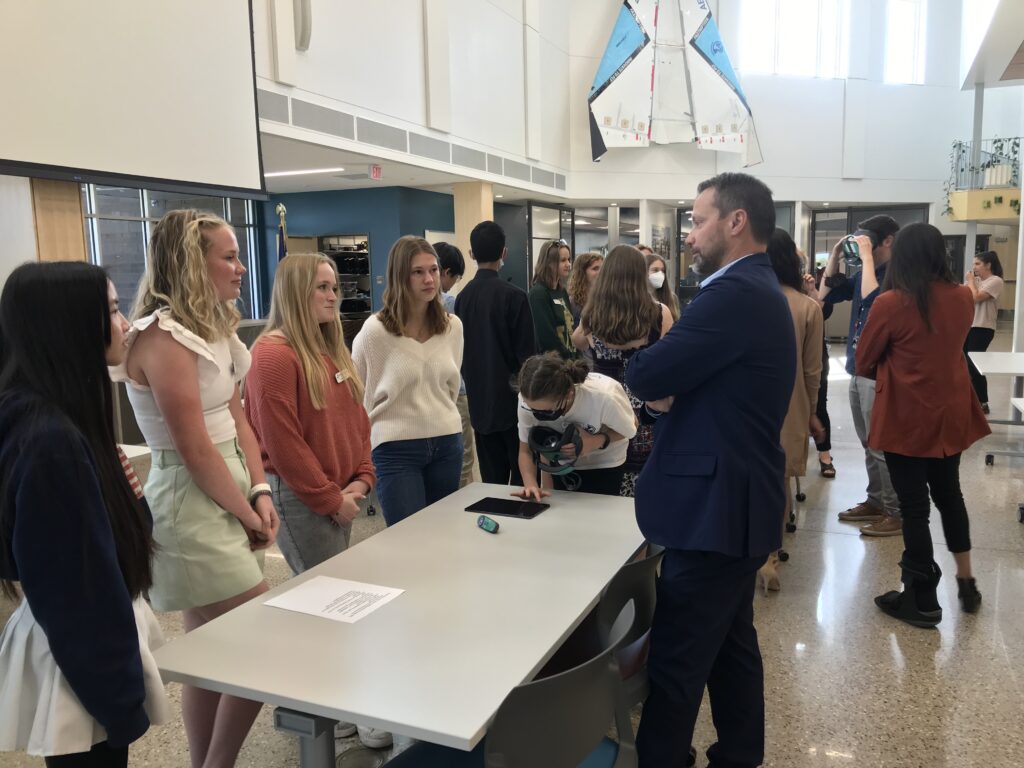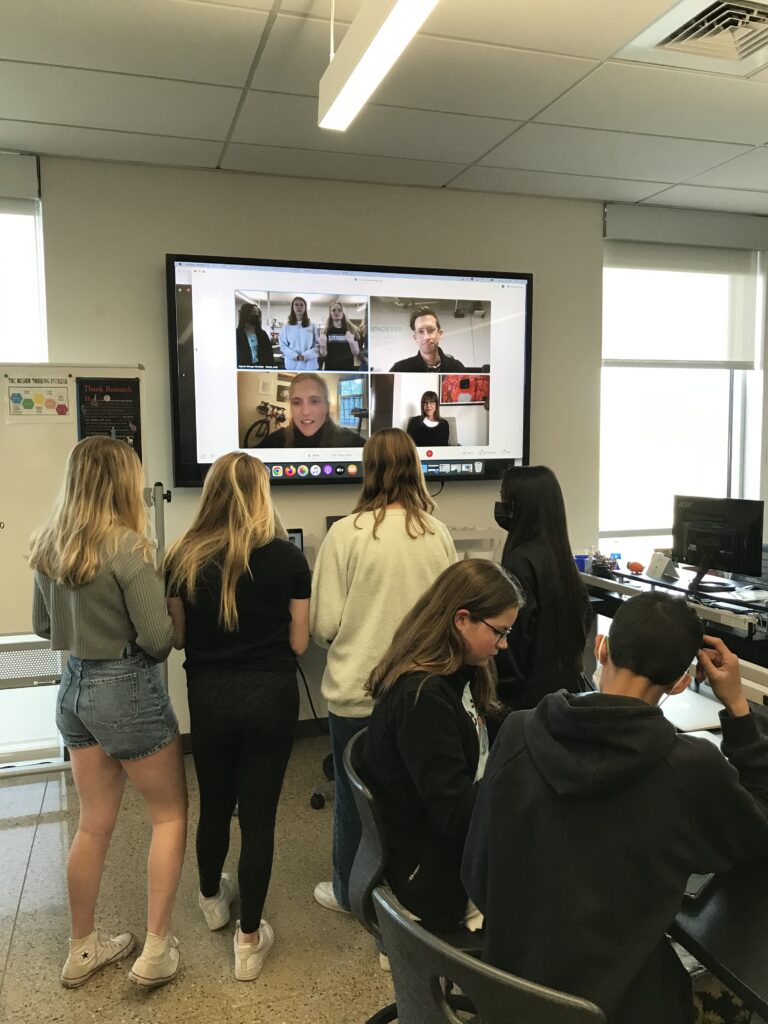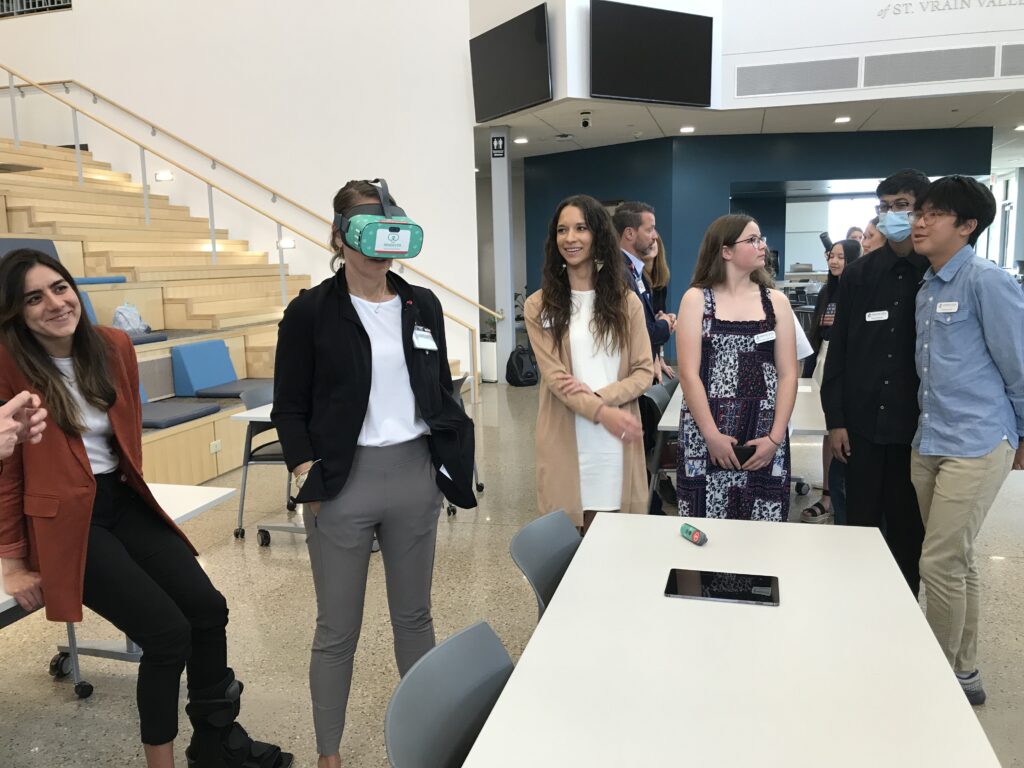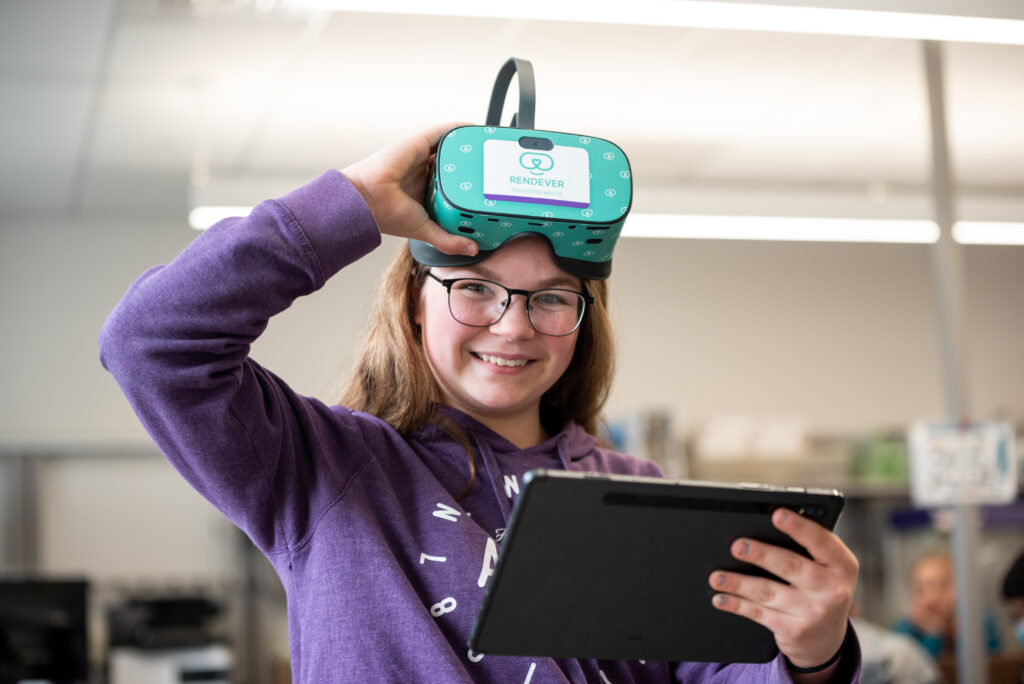 Partners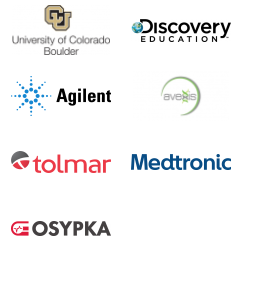 Contact Us