Overview
The Innovation Center of St. Vrain Valley Schools' Aeronautics Program provides an engineering and industry certification platform for students looking to prepare for a career pathway in Aviation Engineering and Flight.
Our programming in Unmanned Aircraft Systems (UAS) partners with industry leaders to ensure aligned, college-ready coursework for students of St. Vrain Valley Schools.
Beyond industry and higher education involvement, students of the Innovation Center's Aeronautics Program pursue districtwide STEM connections through the use of aerial drone challenges and competitions.
Check out our YouTube Channel for the latest videos of our work, products, and projects: IC Aeronautics on YouTube.
Pathways
The Aeronautics Program currently offers two pathways. Students have the option to be involved in both depending on individual course load. The Unmanned Aerial Systems (UAS) pathway focuses on student conceptual, practical, and the engineering of drones to be utilized in our Federal Airspace. Students have the opportunity to earn their FAA Part 107 UAS Commercial Certification. The Pilot pathway, endorsed and support by Aims Community College of Aviation Programs, focuses on the ground training content needed to pass the FAA Private Pilot written exam. With the support of qualified staff and industry Certified Flight Instructors, student pilots can get a step ahead in the career field of becoming a commercial pilot.
Project Teams
AERO Team
The Aero team is the representative and industry application student workforce highlight of the Aeronautics program. Student designers have the opportunity to participate in sUAS research and development projects ranging from fixed wing to multirotor aircraft platforms, to new and innovative designs to be used in our marketing/community outreach sustainability program. Opportunities also include UAS contractual based work involving real estate, orthomosaic imagery, custom builds, aerial commercials, and defense work. The team also supports student UAS pilot growth, offering IC UAS Certifications in multirotor and fixed wing endorsements, and Certified Flight Instructors to maintain a high level of training opportunities within the program.
UCAR Drone Project
This team is working on Project Canary. They are developing a sensor suite that can be attached to a DJI Quadcopter so that scientists from the University Center for Atmospheric Research (UCAR) can conduct low-level atmospheric research. The suite includes 5 gas sensors (NH3, CO2, O3, H2, CH4), a LiDAR sensor, a GPS sensor and a BME280 sensor. The data collected via this sensor suite is then transmitted to a phone app (also developed by the students) and, from there, to an on-line database used by scientists working in the field. To learn more, read this blog post the team wrote up for our great partner, Sparkfun!
The team meets Wednesdays from 3:30-5:15. Its main mentor is Craig Rahenkamp, a retired engineer who worked on submarines and satellites. The team is not actively recruiting new members at this time.
Partners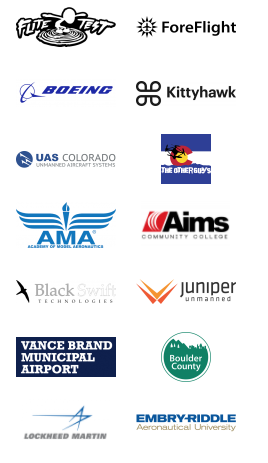 Contact Us