The IC Studios will be utilized to produce authentic various forms of media and marketing skills. The Innovation Center Studios program provides students with opportunities to experience audio engineering, radio show production, podcast production, television studio production, graphic design, and other sources of multimedia to prepare for careers in broadcasting, media and other marketing based professions as well as support entrepreneurial business ventures.
Project Teams
Radio Team
The Radio Team has been producing a show entitled "Tech Talks" which plays on KGNU 88.5FM out of Boulder. This show has been in production for over 3 years. Student Designers on this team produce from start to finish each production to include acquisition of guests, interviewing and voice collection, audio editing, script writing, photo production for show, and work with the radio station to ensure a quality production. The team also assists and explores other opportunities within the Entrepreneurial Studios to gather voices, other audio and perform translations into Spanish for productions needing this service.
Studio Team
The Studio Team consists of filming, photography, basic graphic design and support services to the Entrepreneurial Zone as well as other operations within the Innovation Center. Student Designers on this team acquire, bid and produce productions for internal as well as external clients around video production. Students are also asked to photograph events, produce photography for flyers and other media, conduct product shoots, and assist in the design of logos and other marketing media. Individuals on this team are self learners, creative, innovative and collaborate in order to grow their skills and work with diverse clients and groups.
Partners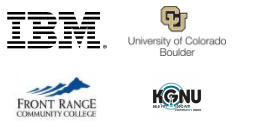 Contact Us